Dear Educator,
With almost one quarter of the world's wetlands, about two million lakes and 243,793 kilometres of coastline, Canada is truly a watery wonderland. And, as keepers of one-fifth of the world's fresh water, taking care of this precious resource is a shared responsibility.
Rivers to Oceans Week (June 8 to 14) is your opportunity to celebrate the water that makes Canada special and help your community recognize that ocean health is a freshwater issue.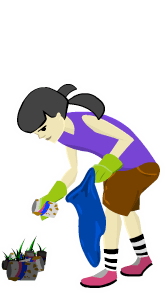 To mark Rivers to Oceans Week, CWF is encouraging youth to become Water Warriors! It's important to empower our children and let them know that they can really make a difference in conservation in Canada. From having a balloon-free birthday party the next time they blow out their candles to taking part in a shoreline cleanup, there's plenty kids can do to help Canada's waters.
Moreover, every child who learns something new about the lakes, rivers and oceans that make up Canada's landscape, renews our hope for tomorrow. By completing the Water Warrior Certificate available at RiverstoOceans.ca, each child will get a chance to connect with Canada's watery worlds and they'll even get to have their water questions answered by our team of conservationists!